While never really meant to be a consumer tech event, over time the rapid ascendancy of smartphones captured much of the agenda at Mobile World Congress, now MWC. And though device manufacturers continue to have a major presence at the show, the maturity of intelligent devices, longer lifecycles and the disaggregation of the network stack have created more interest in enterprise-class technologies than ever before. Semiconductor manufacturers, network equipment players, infrastructure companies, cloud vendors, software providers and a spate of startups are eyeing the trillion-dollar-plus telecommunications industry as one of the next big things to watch this decade.
In this Breaking Analysis, we bring you part two of our ongoing coverage of MWC 2023, with some new data on enterprise players specifically within large telco environments. We'll also take a brief glimpse at some of the pre-announcement news from the show and corresponding themes ahead of MWC. We'll close with the key innovation areas we'll be covering at the show onsite in Barcelona on theCUBE, SiliconANGLE's mobile video studio.
Enterprise tech meets telecoms and cloud leads in momentum
Last week we shared some Enterprise Technology Research data that showed how traditional enterprise tech players were performing specifically within the telecoms vertical. Above is a new look at similar data from ETR that isolates the same companies but cuts the data for large telco. The N in this cut is 196, down from 288 last week when we included all company sizes in the data set.
Remember the dimensions: On the Y axis is Net Score or spending momentum and on the X axis is pervasiveness in the data set, which is a measure of market presence. The table insert in the upper left informs how the dots are plotted and the red dotted line at 40% indicates a highly elevated Net Score.
Although the data are not dramatically different in terms of relative positioning, there are some changes at the margin. Notably, the big three cloud players have the highest score when ranked by spending momentum or Net Score.
Going down the list focusing on Net Score:
Microsoft Azure is comparable but slightly lower in large telco than overall telco;
Google Cloud comes in at No. 2 and basically swaps places with Amazon Web Services Inc., which drops slightly in large telco relative to overall telco;
Snowflake Inc. is basically flat between large and all telco with an N of 41 (versus 50 across all telco) and maintains its No. 4 position in the sector. Remember Snowflake's overall Net Score is much stronger when measuring all verticals (60%-plus).
Next are Red Hat OpenStack and Databricks Inc., about the same in large telco, although Databricks softens a bit;
Dell Technologies Inc. has a big presence at MWC and is getting serious about driving 16G adoption and ecosystem partnerships;
Cisco Systems Inc. and Red Hat OpenShift basically swapped spots when moving from all telco to large telco as Cisco drops and Red Hat bumps up a bit. But Cisco has a larger presence in both large and all telco than all the names we've listed with the exception of AWS and Oracle Corp.;
VMware Inc. drops four points in large telco;
Accenture PLC moves up dramatically – about nine percentage points in large telco relative to all telco;
Hewlett Packard Enterprise drops a couple percentage points but is basically flat, as is Oracle Corp.;
IBM Corp., surprisingly, drops by five points.
Ranking the players by market presence in the very largest telcos
Cisco, HPE, Oracle, Red Hat and Dell are more prominent
ETR allows a cut on the data that isolates the very largest carriers. Think AT&T Inc., Verizon Communications Inc., Deutsche Telekom AG, Comcast Corp., Nippon Telegraph and Telephone Corp., T-Mobile US Inc. and the like. Notably, the traditional enterprise players have a large presence and relationships with these companies — often through the information technology departments of the carriers but relationships nonetheless that can be leveraged as enterprise tech, cloud-native and disaggregated stacks move into telco.
In the chart below we show the cut for top tier telcos ranked by market presence in the data set. While the Ns are small, since there just aren't that many multibillion-dollar telcos, its instructive to note the data below.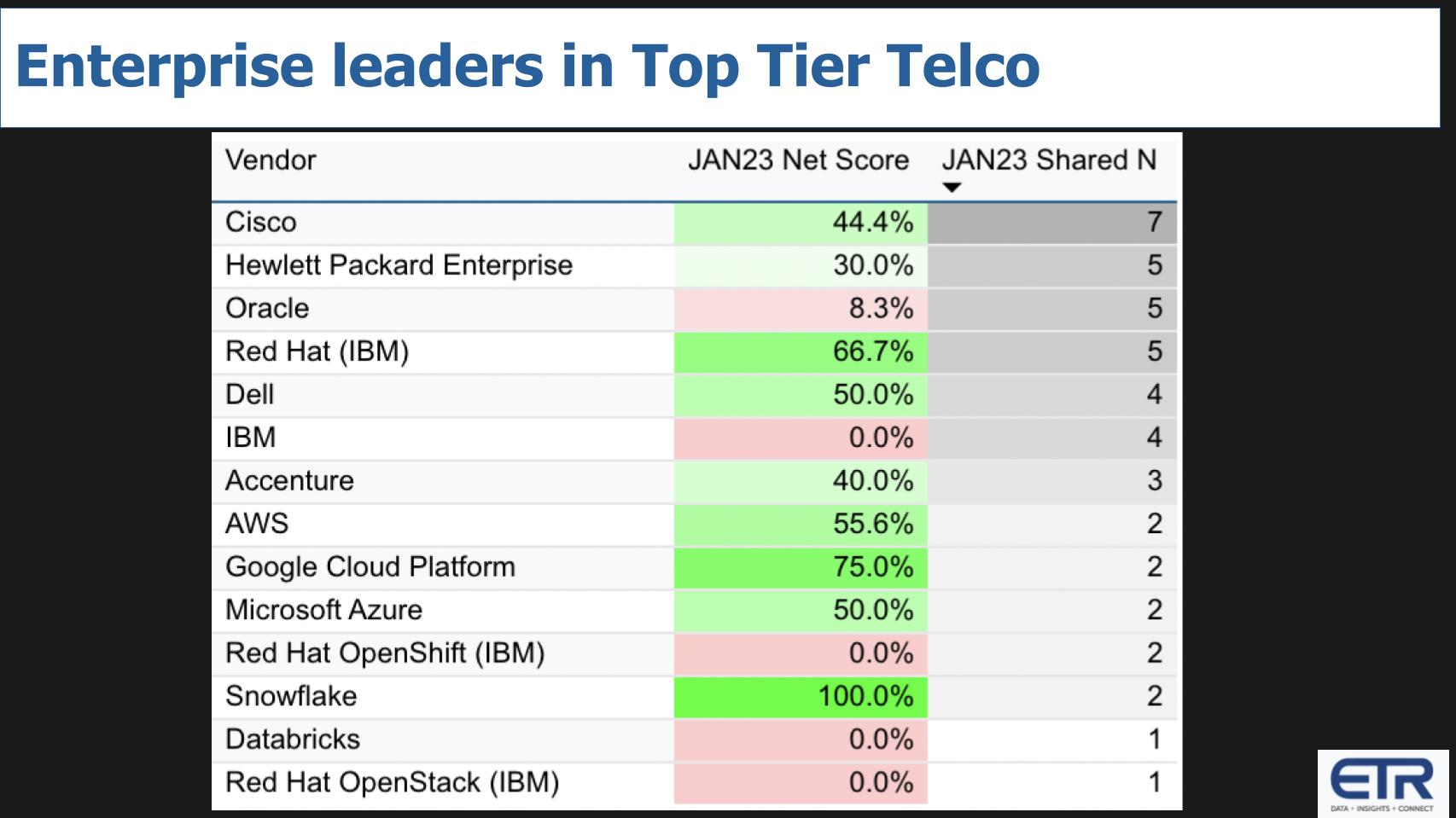 The bottom line for enterprise players is: 1) They're just getting started as the stack disaggregates; 2) All these players have experience in delivering horizontal solutions, working with partners and identifying big problems to be solved; and 3) Many of these are generally not the fastest-moving companies relative to the disruptors – cloud has been the exception in fairness – but the good news for the incumbents is this telco transformation and the 5G buildout will take years. So it's moving at a pace that is very favorable to many of these firms, which are often entrenched in the IT departments of large telcos.
The news train is running at MWC 2023
Looking at just a fraction of the pre-announcements that have hit the wire this week can give a glimpse of the diversity of innovation that is occurring in the telecommunications space: semiconductor manufacturers, device makers, network equipment players, carriers, cloud vendors, enterprise tech vendors, software companies and startups in the sector. Below we show a curated list and include an Open RAN logo because there's so much buzz around the topic.
Suffice it to say there's no way we can cover all the announcements from the 2000-plus exhibitors at the show, so we're cherry-picking here and will make a few callouts.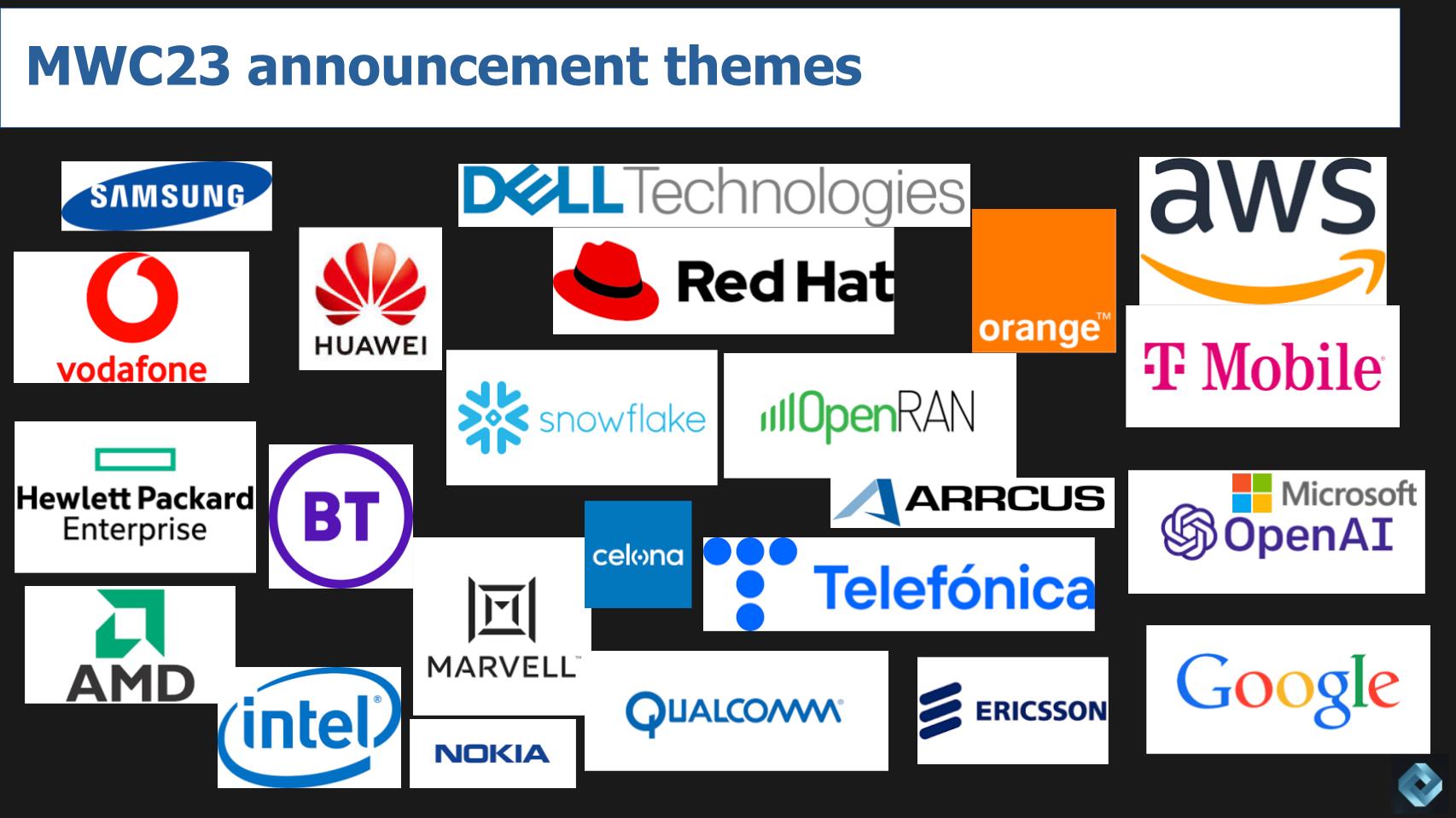 Hewlett Packard Enterprise announced an acquisition of an Italian private cellular network company called Athonet. Zeus Kerravala wrote about it on SiliconANGLE if you want more details. Now interestingly, HPE has a partnership with Celona Inc., which also does private 5G. As Zeus notes in his post, Celona is more out of an out-of-the-box solution, whereas Athonet is designed for the core and requires more integration.
Even more interesting is that HPE made the announcement just after Dell announced a spate of related news, including a private wireless partnership with Athonet.
We expect lots of private network news at the show from various competitors so we'll be watching for that. And while many are concerned about P5G encroaching on Wi-FI, as Kerravala writes, these private networks are really designed for more industrial and mission critical environments like factories and warehouses run by robots, etc. These use cases can justify the expense of private networks. Whereas Wi-Fi remains the low cost flexible option for offices and homes.
Dell continues to go hard on its mission to open up the telco network. As Mike Wheatley writes, the company made a number of announcements, including news that in the second half of this year it will begin shipping its infrastructure blocks for Red Hat. Dell also announced a range of PowerEdge servers for a variety of use cases – bringing forth its 16G portfolio and aiming it squarely at the telco space. Dell also announced a private wireless offering with Airspan and Expeto and, as mentioned previously, a solution with Athonet, the company HPE announced it was purchasing.
So Dell and HPE now partnering up in the private wireless space and yes, hell is freezing over. We'll see where that relationship goes. Dell also announced new lab and certification capabilities, which we said last week was critical for the further adoption of open ecosystem technologies.
AWS made a number of announcements in the space, including private wireless solutions and associated managed services – AWS named Deutsche Telekom, KDDI, Orange, T-Mobile and Telefonica as partners. And AWS announced a stepped up partnership with T-Mobile to bring AWS services to T-Mobile's network portfolio.
Snowflake announced its Telecom Data Cloud, continuing with its go to market alignment with key industries. It announced that AT&T and a number of other partners are collaborating to break down data silos, specifically in Telco. Essentially this is Snowflake taking its core value prop to the telco vertical and forming key partnerships that resonate in the space.
Samsung previewed its future ability to allow smartphones to access satellite services, something Apple has previously announced.
Advanced Micro Devices Inc., Intel Corp., Marvell Technology Inc. and Qualcomm Technologies Inc. all are in the act. Qualcomm, for example made news along with Telefonica and Ericsson for a 5G millimeter network that it will be showcasing in Spain this coming week using the Qualcomm Snapdragon platform. Snapdragon, of course, is based on Arm technology, which as we've reported extensively is dominating the edge.
And no surprise that Microsoft is touting its OpenAI relationship and you'll hear lots of AI talk at this conference as it is the "now topic."
We could go on, but there's just so much going on at MWC that we just wanted to give you a glimpse of some of the highlights we've been watching.
Key topics and issues at MWC 2023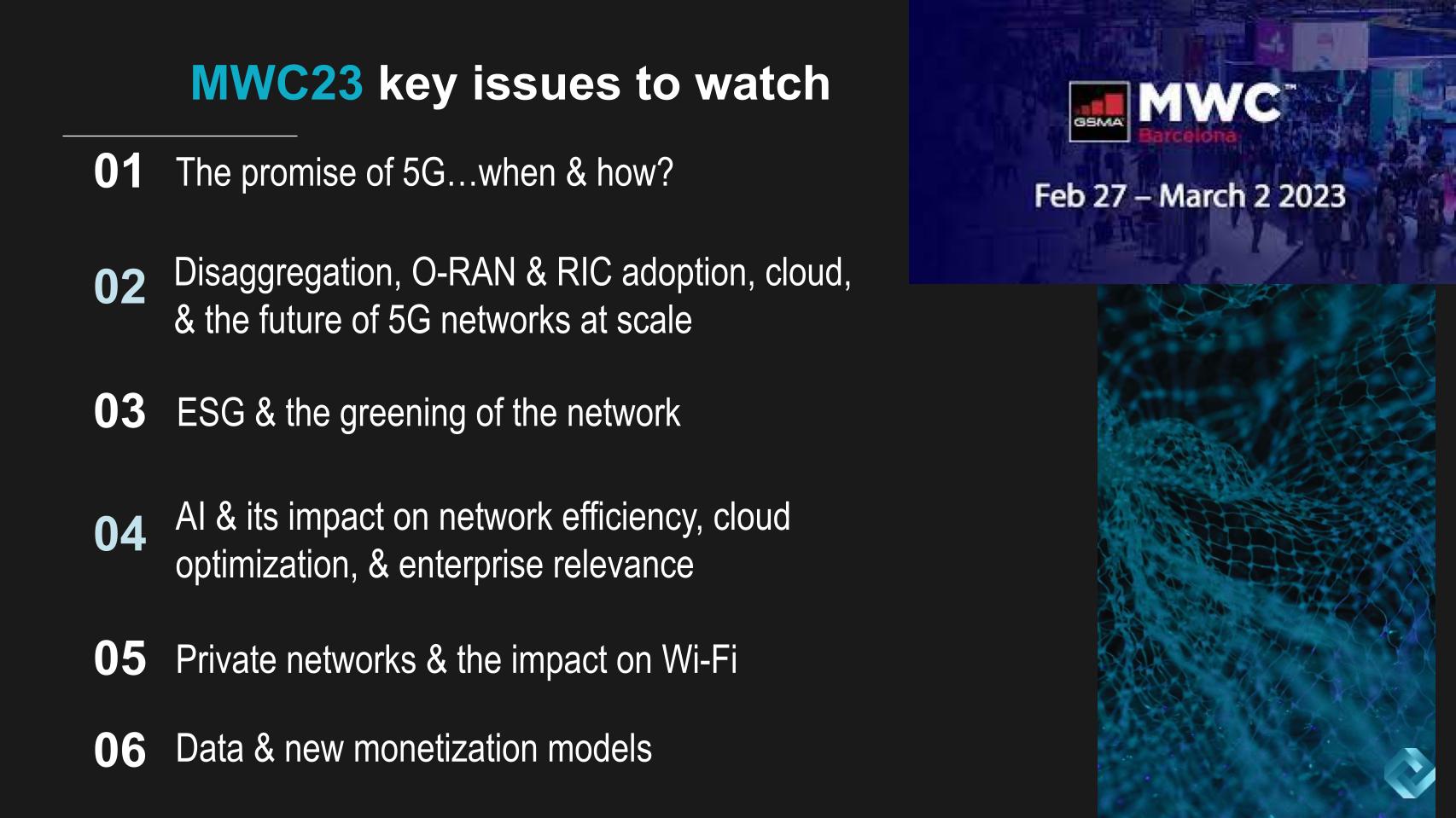 A major theme in this market is will 5G ever become real and profitable? The excitement around 5G hasn't yet lived up to the hype, but that's because the rollout, as we've previously reported, will take years.
Part of that rollout will rely on the disaggregation of the hardened telco stack, as we reported last week. Open RAN is a big component of that evolution, as are RAN intelligent controllers… the brain of Open RAN, if you will.
As the industry builds out 5G networks at massive scale, accommodates unprecedented volumes of data and applies compute-hungry AI to all this data, the issue of energy efficiency will be front and center. It has to be. Not only is it a political hot button, the reality is that improving power efficiency is compulsory or the whole vision of telco's future will come crashing down. Chip manufacturers, equipment makers, cloud providers and more will be double-clicking on this topic.
AI/machine intelligence, as we said, is the now topic and it's evolving rapidly — not only in consumer land but to the theme of this Breaking Analysis, AI in the enterprise. Enterprise AI can't be as error-prone as ChatGPT. It has to be clean, reliable, governed, accurate, ethical and trusted.
We will have Zeus on the show next week and definitely want to get his take on private networks and how they will affect Wi-Fi: Will private networks cannibalize Wi-Fi and if not, why not?
And finally, as always, we'll be following the data to understand where and how telcos, cloud players, startups, software companies, disruptors and end customers will break down data silos and make money from new data opportunities.
As we often say on theCUBE, follow the data and you'll find the money….
Keep in touch
Many thanks to Alex Myerson and Ken Shifman on production, podcasts and media workflows for Breaking Analysis. Special thanks to Kristen Martin and Cheryl Knight who help us keep our community informed and get the word out, and to Rob Hof, our editor in chief at SiliconANGLE.
Remember we publish each week on Wikibon and SiliconANGLE. These episodes are all available as podcasts wherever you listen.
Email david.vellante@siliconangle.com, DM @dvellante on Twitter and comment on our LinkedIn posts.
Also, check out this ETR Tutorial we created, which explains the spending methodology in more detail. Note: ETR is a separate company from Wikibon and SiliconANGLE. If you would like to cite or republish any of the company's data, or inquire about its services, please contact ETR at legal@etr.ai.
Here's the full video analysis:
All statements made regarding companies or securities are strictly beliefs, points of view and opinions held by SiliconANGLE Media, Enterprise Technology Research, other guests on theCUBE and guest writers. Such statements are not recommendations by these individuals to buy, sell or hold any security. The content presented does not constitute investment advice and should not be used as the basis for any investment decision. You and only you are responsible for your investment decisions.
Disclosure: Many of the companies cited in Breaking Analysis are sponsors of theCUBE and/or clients of Wikibon. None of these firms or other companies have any editorial control over or advanced viewing of what's published in Breaking Analysis.
---
Show your support for our mission by joining our Cube Club and Cube Event Community of experts. Join the community that includes Amazon Web Services and Amazon.com CEO Andy Jassy, Dell Technologies founder and CEO Michael Dell, Intel CEO Pat Gelsinger and many more luminaries and experts.