UiPath Inc.'s recent earnings beat and raise provides some evidence that thus far, generative artificial intelligence has not been dilutive for the company.
As an early leader that is transforming beyond robotic process automation toward end-to-end enterprise automation, UiPath, like all automation providers, has always faced adoption headwinds beyond isolated deployments. In this sense, gen AI should bolster adoption and be a positive force. The flip side is that widely available tools such as chatbots and generalized foundation models could eat away at the low end of the automation total available market, highlighting the urgency for companies such as UiPath to move upmarket and accelerate innovation that brings differentiation from commoditized tools — and, importantly, create distance from embedded AI within mainstream enterprise software-as-a-service platforms such as Slack GPT and Salesforce Einstein.
In this Breaking Analysis, we briefly review the recent earnings print from UiPath. We'll look at Enterprise Technology Research survey data that shows Microsoft Power Automate's impact on the automation market and how it is forcing UiPath to target larger accounts with a more functional product set. As well, we'll look at the impact that AI is having in these larger accounts and test UiPath management assertions that gen AI will be a tailwind for the company.
First the latest numbers
The chart above from the Motley Fool lays out the key metrics for UiPath's second quarter. We've pulled out some pluses and minuses on the righthand side. Annualized recurring revenue of $1.3 billion beat expectations and grew 25%. Very importantly, $1 million-plus ARR accounts grew 30% and we've double-starred that metric because we're going to double-click on data that is an indicator of performance in those accounts.
Operating margin and cash flow are improving nicely and UiPath announced a $500 million share buyback, which presumably is an indication that the company sees its stock as undervalued. It's also a good way to prop up values, so while we have it listed as a positive, only time will tell if this move will return results better than other capital allocation choices such as acquisitions, research and development, or ecosystem/go-to-market investments.
On the negative side, new logos were soft and total bookings only grew in the mid-single-digits despite UiPath's 20% outlook for revenue growth this fiscal year.
We see these as somewhat mixed results but definitely more positives than negatives in the quarter, which is why the stock was up as of midday Friday by around 12% since its earnings release on Wednesday after the close. We're encouraged by the consistency, cost discipline and potentially better operating leverage we're now seeing from UiPath under the leadership of Rob Enslin.
UiPath customer spending trajectory
Let's take a look at some of the ETR spending data. Throughout last year we saw a continued deceleration in the spending momentum around UiPath's platform. However, relative to last October, we're seeing a rebound in UiPath's Net Score or spending momentum shown on that blue line in the chart below.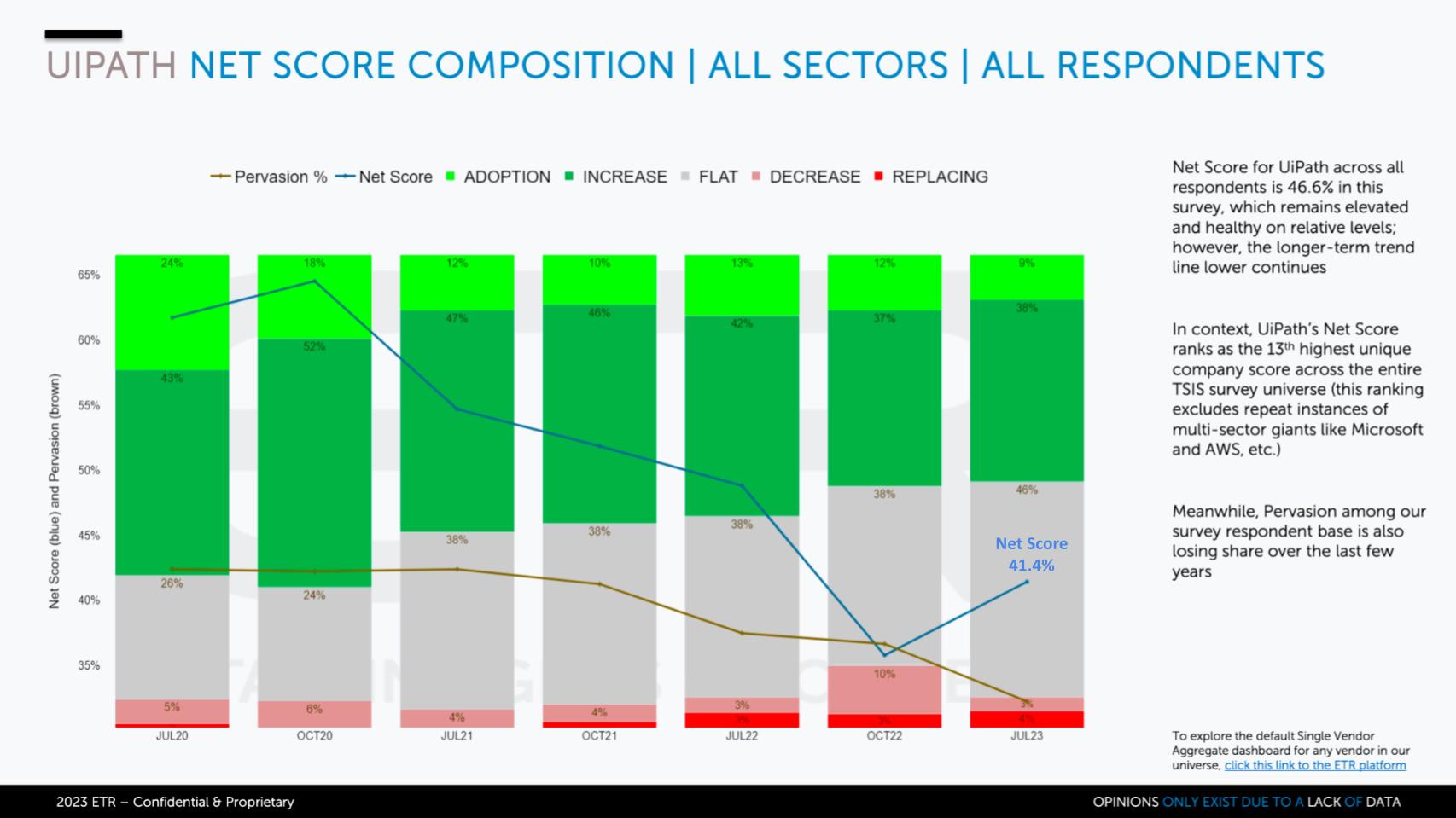 The data shows Net Score granularity for 169 UiPath customers in ETR's recent July survey. Starting with the lime green at 9%, that represents the percentage of UiPath customers in the survey that are new logos. The forest green at 38% is the percent of customers spending 6% or more on UiPath relative to last year. The gray area, which has been growing since the October 2020 survey, represents flat spending (+/- 5%). The pink is spending down by 6% or worse (that's only 3%) and the red at 4% is churn.
Subtract the reds from the greens and you get the ETR's Net Score of 41.4% shown by the blue line.
The brown line represents the pervasiveness of UiPath in the survey and is derived by dividing the UiPath N of 169 by the total survey N of around 1700. That metrics has been declining steadily since mid 2021 when the tech market started to tighten and budgets started to shift toward security and other initiatives as we exited the isolation economy.
In our view this was a function of: 1) Market softness; 2) Poor UiPath go-to-market execution; and 3) The impact of Microsoft Power Automate and how it affects this particular ETR metric. New CEO Enslin has been addressing No. 2 with the company's NorthStar selling framework. Based on last quarter's results, we're seeing some positive effects of Enslin's influence, while founder Daniel Dines focuses on product with a big emphasis on AI.
Power Automate storms the castle
As we said at the top, Power Automate from Microsoft has had a major impact on the market.
The chart below plots the leaders within the ETR data set for the automation sector. The vertical axis is Net Score – remember that's spending momentum – and the horizontal axis axis is overall penetration in the survey which is representative of the Ns. You can see both Net Score and Shared N counts on the table inserted to the right.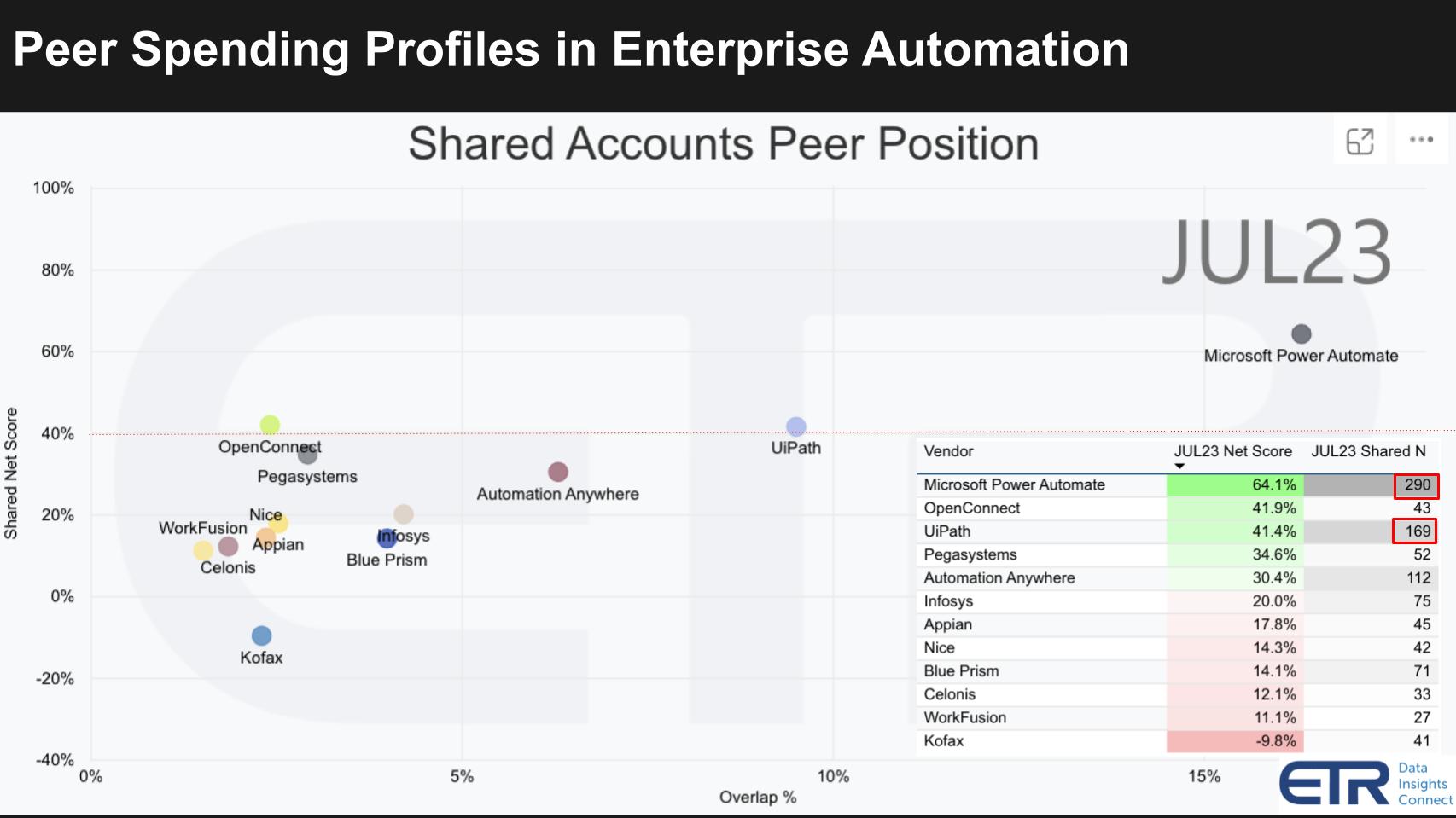 Note that we've added a dotted red line at 40%, which indicates a highly elevated spending velocity. Now there's no denying that Microsoft, with an N of 290 and a 64% Net Score, has a very strong position. But it's important to point out that the ETR data measures customer accounts, not spending levels, and much of the Microsoft activity is small dollars that add up at large scale. We've also highlighted UiPath's N at 169. Only Automation Anywhere has more than 100 N in this survey and you can see the position of the other players.
UiPath continues to stand out, but as we said when Microsoft acquired Softomotive to create Power Automate, it would have a big presence in the market and force UiPath to go upmarket. UiPath has done that through acquisition and organic R&D to dramatically expand its portfolio with process mining, task mining, comms mining and significant AI functionality.
Take another look at the data above for a moment key on the position of Microsoft and UiPath.
UiPath's position in G2000 AI accounts dramatically improves
Data shows AI is a tailwind in large accounts for UiPath, Microsoft and Pegasystems
Look what happens when we tap the power of the ETR platform and cut the data by 140 AI accounts and isolate the data to the Global 2000 customers in the data set.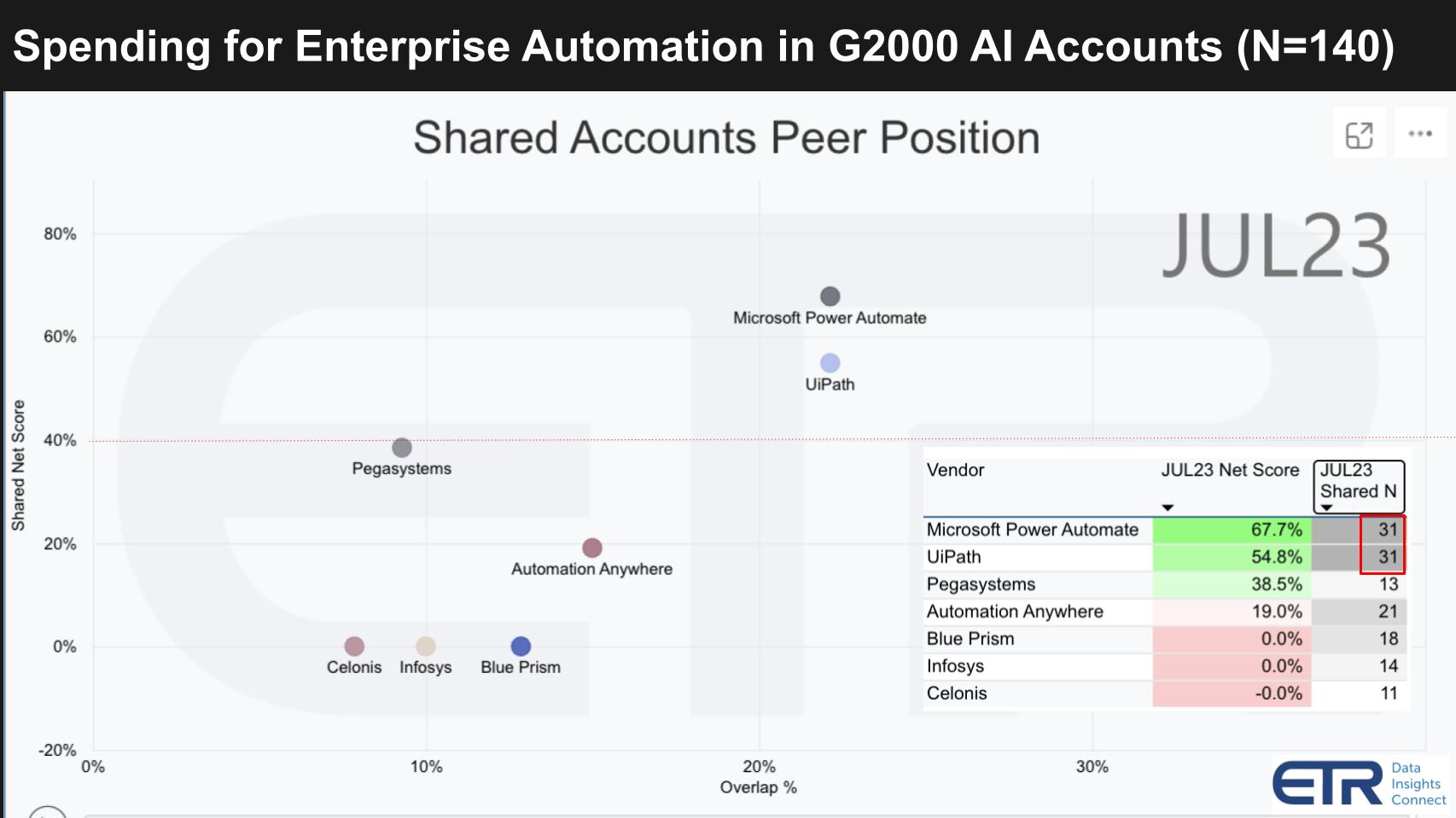 First, the numbers naturally get smaller because we're slicing the salami by G2000 and AI accounts. But UiPath's N ties that of Power Automate and its Net Score jumps from 41.4% overall to about 55% within the G2000. Microsoft's Net Score jumps too, as does Pega's, but Automation Anywhere's drops quite dramatically to 19% from 30%. Blue Prism and Celonis drops as well by double-digit percentage points (caveat: on smaller Ns).
Now again, these are smaller Ns, but we still think they're meaningful and are perhaps an indicator of which automation firms have the greatest AI affinity and potential.
Key points:
The combination of AI plus larger G2000 accounts appears to be a positive for UiPath.
Earlier we mentioned the importance of $1 million-plus ARR accounts as critical to UiPath's future. This data provides evidence that UiPath's performance in larger accounts is notably better.
AI appears to be a rising tide for some automation players such as UiPath, Microsoft and Pega and potentially negative for others.
Is AI a friend or foe to automation platforms?
It's no secret that some folks see AI as a potential negative disruptor to firms such as UiPath. In our Breaking Analysis last March, we said GPT models are a two-edged sword for automation platforms and we still feel that way.
Take UiPath Studio as an example. It was designed to simplify adoption for a wider audience, but it's becoming clear to us that AI has a much greater potential to achieve this objective. UiPath and other automation providers must quickly leverage these capabilities before broader market forces encapsulate and pick off parts of the automation value prop.
UiPath has announced that its Wingman project is now in Private Preview, which is a major milestone in our view. Project Wingman brings gen AI together with computer vision to understand screen content. By using NLP prompts, it promises to dramatically simplify the creation of automations.
This could be an enormous game changer for UiPath and it could give the company: 1) a leg up on the competition; 2) much broader and deeper adoption of its platform; and 3) an accelerant to revenue growth.
Whether it can be a meaningful TAM expander remains to be seen, but it's a trend we're watching.
UiPath management makes the case for gen AI as a positive force
This is in part why company co-founder and first CEO Dines focused so much time on the earnings call on this topic. And it was the No. 1 topic of interest among analysts.
Here are three statements Dines made on the call: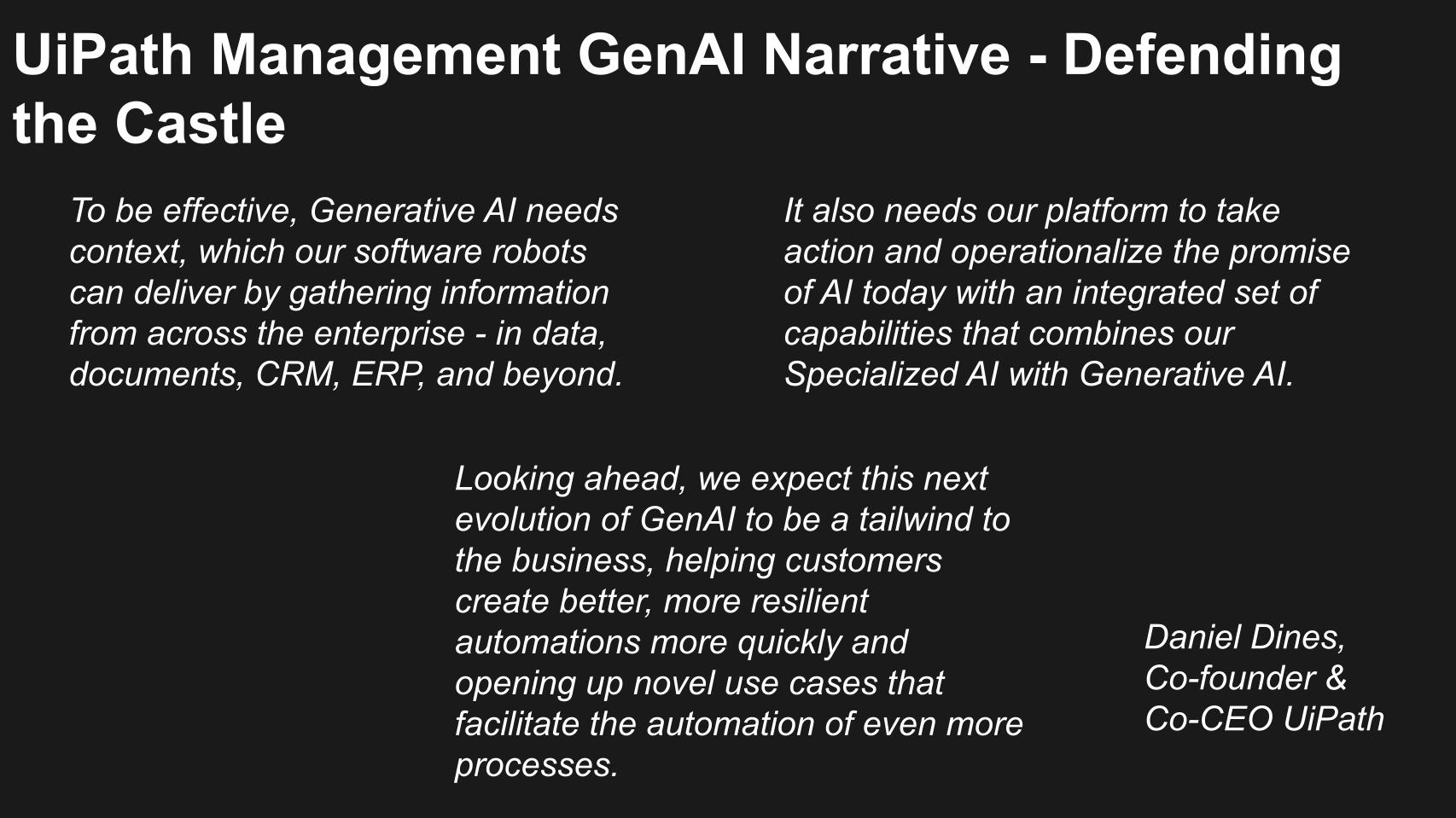 To be effective, generative AI needs context, which our software robots can deliver by gathering information from across the enterprise – in data, documents, CRM, ERP and beyond.

It also needs our platform to take action and operationalize the promise of AI today with an integrated set of capabilities that combines our Specialized AI with generative AI.

Looking ahead, we expect this next evolution of gen AI to be a tailwind to the business, helping customers create better, more resilient automations more quickly and opening up novel use cases that facilitate the automation of even more processes.
Anyone who has done software development with generative AI will tell you, as powerful as it is, it's not trivial to get consistent, accurate and meaningful results. Ingesting data of mixed quality and getting the system to take action, and take the right action consistently, is challenging. By the way, we come at this from firsthand experience at SiliconANGLE and theCUBE. We welcome you to visit thecubeai.com and sign up for our private beta, which will give you access to a decade-plus of indexed video content, CUBE insights and machine-generated answers with video snippets.
The bottom line is Dines has released operational and go-to-market responsibility to Enslin so he could focus on product innovation and AI must be a top priority in our view. We believe it's the single most critical aspect of UiPath's product future and UiPath, along with other automation providers, must get ahead of the broader market's widely available open-source and third-party AI tools and demonstrate that it can add more value and deliver better outcomes.
The power law of gen AI applied to automation platforms
This brings us back to our power law conversation.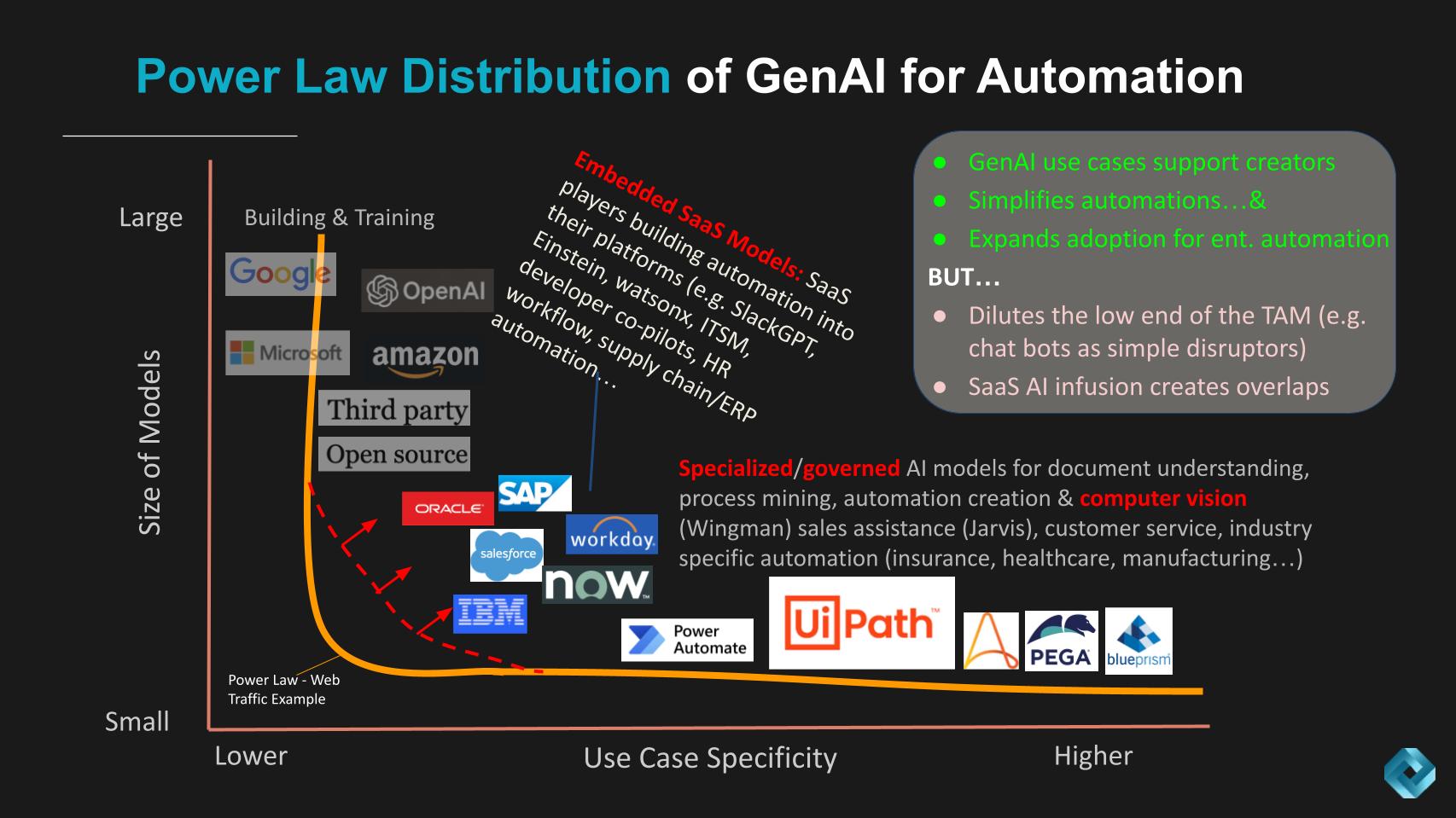 We first introduced this concept last month in a Breaking Analysis.
We first used the example of the internet where web traffic both concentrates attention on a few big sites but at the same time distributes attention across a very long, long, long tail. That orange line is generally what the web looks like today with a pretty hard right angle and a limited torso.
We see the gen AI power law as similar but different. For our axes we choose size of model on the vertical – where the big internet giants such as Google LLC, Amazon.com Inc. and Microsoft Corp., along with OpenAI LP, will have very large models. And on the horizontal axis we show model specificity – that is, use case or industry specialization.
The basic premise that UiPath puts forth is shown in that insert comment box in the upper right, that generalized AI models will support creators by simplifying the creation of automations and thereby accelerate adoption. Those are real positives and we buy into that premise.
But counterbalancing these factors is the possibility that chatbots and consumer tools will eat away at the low end of the TAM. Moreover, calling your attention to the lower part of the torso, virtually every SaaS vendor is embedding AI and automations into their platforms. Salesforce Inc. with Slack GPT and Einstein, ServiceNow Inc., Workday Inc., Oracle Corp. and the like. While this could be a partnering opportunity for UiPath (such as SAP SE), history shows that, most typically, software companies want to own their entire stacks.
The point is this presents a challenge for the likes of UiPath. Because these SaaS platforms will cannibalize some portion of the automation TAM for specialized tasks – that is, sales companions, writing code, summarizing documents and the like.
Firms such as UiPath have to move fast and we've tried to highlight some of the unique capabilities of specialized AI in automation platforms above — starting with governed use cases. UiPath must show that it is best at things such as document understanding, process mining, automation creation and computer vision. It is tying Wingman to computer vision as an example of specific differentiation. That includes sales assistance with Jarvis – will it outgun Salesforce there with industry-specific automations? UiPath's strong industries are finance, insurance, healthcare and manufacturing – but again there is overlap with SaaS platforms and that will be critical to watch from an adoption perspective.
Here's our thinking: UiPath got out to an early lead. It has a nice installed base – it now has more than 10,000 customers, although only about 20% are $100,000-plus customers. Its advantages are: 1) UiPath can be a more functional automation system, which it is proving from a strong product standpoint; and 2) UiPath can be a horizontal intelligent automation platform, not narrowly confined to a specific market segment such as human resources, for example.
SaaS companies have a tendency to expand through bolt-on acquisitions and in our view, UiPath can carve out a position as a pure-play automation expert. To do so, it must convince customers that end-to-end automation is a key requirement of digital transformations and it has to prove that its AI is unique and value-add as we showed on the horizontal axis of our power law.
Upcoming catalysts will potentially be unveiled at UiPath Forward VI the week of Oct. 9 in Las Vegas. We'll be there reporting and analyzing as always and look forward to your feedback on this post.
How do you see the market? Is AI a wind at UiPath's back or a disruptive force? Let us know what you think.
Keep in touch
Many thanks to Alex Myerson and Ken Shifman on production, podcasts and media workflows for Breaking Analysis. Special thanks to Kristen Martin and Cheryl Knight, who help us keep our community informed and get the word out, and to Rob Hof, our editor in chief at SiliconANGLE.
Remember we publish each week on Wikibon and SiliconANGLE. These episodes are all available as podcasts wherever you listen.
Email david.vellante@siliconangle.com, DM @dvellante on Twitter and comment on our LinkedIn posts.
Also, check out this ETR Tutorial we created, which explains the spending methodology in more detail. Note: ETR is a separate company from Wikibon and SiliconANGLE. If you would like to cite or republish any of the company's data, or inquire about its services, please contact ETR at legal@etr.ai.
Here's the full video analysis:
All statements made regarding companies or securities are strictly beliefs, points of view and opinions held by SiliconANGLE Media, Enterprise Technology Research, other guests on theCUBE and guest writers. Such statements are not recommendations by these individuals to buy, sell or hold any security. The content presented does not constitute investment advice and should not be used as the basis for any investment decision. You and only you are responsible for your investment decisions.
Disclosure: Many of the companies cited in Breaking Analysis are sponsors of theCUBE and/or clients of Wikibon. None of these firms or other companies have any editorial control over or advanced viewing of what's published in Breaking Analysis.
Image: Generated with AI
---
Your vote of support is important to us and it helps us keep the content FREE.
One-click below supports our mission to provide free, deep and relevant content.  
Join the community that includes more than 15,000 #CubeAlumni experts, including Amazon.com CEO Andy Jassy, Dell Technologies founder and CEO Michael Dell, Intel CEO Pat Gelsinger and many more luminaries and experts.
THANK YOU